Dallas Cowboys' 'Hail Mary' to be immortalized as NFT – Spectrum News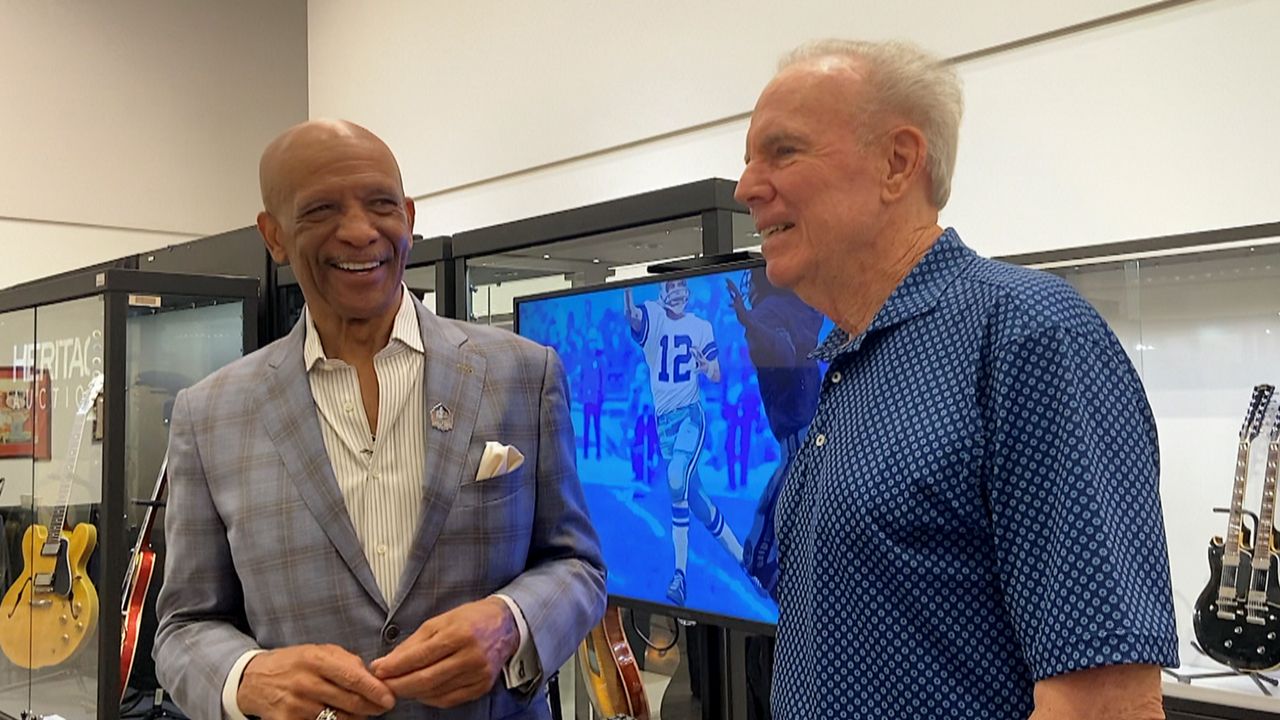 DALLAS — It's no secret Hall of Famers Roger Staubach and Drew Pearson are two of the most admired Dallas Cowboys. They also share a piece of professional football history that's been celebrated for 46 years, the Hail Mary pass.
It was Staubach's famed last-second prayer of a pass that propelled the Cowboys to a 17-14 playoff win over Minnesota in 1975 and launched Hail Mary into the mainstream sports vernacular. You hear it everywhere on the football field, in politics, in classrooms and in life. Needing a last-second miracle is and will always be a Hail Mary.
"I was way downfield, I came back to the ball, caught it because I don't drop nothing and then the ball ended up sticking between my elbow and my hip," said Pearson as he was recalling the iconic play.
"I was just a Catholic kid from Cincinnati and they asked me what I was thinking about as the ball left my hand. I just closed my eyes and said Hail Mary," Staubach said.
The popularity of the phrase has not declined. In fact, it's going to be immortalized in the digital world. Ellipsis Digital created the first vintage non-fungible token, which incorporates all the elements of the original Hail Mary pass in a unique artistic rendition. A non-fungible token, or NFT for short, is a unit of data stored on a digital ledger, called a blockchain, that certifies a digital asset to be unique and therefore not interchangeable. NFTs can be used to represent items such as photos, videos, audio, and other types of digital files. According to Heritage Auctions manager Mike Provenzale, it is essentially a piece of digital art.
"If you compare it to a $100,000 baseball card, you have the risk of theft, fire and so on. It's just a depreciating asset. Over time it's going to become dust," said Ellipsis Digital President Josh Fagan. "NFTs are going to live on forever."
The Hail Mary is a unique bonus to the NFT market since it's the first vintage one of its kind. But to get the two playmakers on board wasn't the easiest of tasks.
"I said, 'Hey, you know what an NFT is?' And they looked at me like I was crazy. So then I explained it and they still looked at me like I was crazy," Ellipsis Digital founding principal Doug Donnelly recalled. "Basically it boiled down to trust, so we did it."
By doing so, the idea became lucrative with a starting bid at $20,000. Experts predict it could sell as high as $80,000 come auction time. So not bad in comparison to other notable NFTs in the sports memorabilia world. Patrick Mahomes, Rob Gronkowski and Luka Dončić each have their own NFTs in the market. The combined earnings for all three stars' NFTs is over $5.4 million.